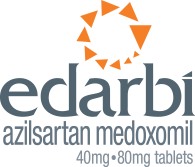 A POWERFUL ARb
Abbreviation: ARB, angiotensin II receptor blocker
Actor Portrayal
EDARBI® (azilsartan medoxomil) Efficacy
Systolic blood pressure (SBP) control you can count on for your appropriate patients*
EDARBI delivered statistically superior SBP control compared to Diovan® (valsartan) and Benicar® (olmesartan medoxomil).1,2
*Based on clinical trial data vs Diovan and Benicar.1,2
EDARBI Head-to-Head Clinical Trial Results
Primary endpoint in the study was a change in 24-hour mean ambulatory SBP
after 6 weeks of treatment.1
Mean ambulatory SBP reduction at 6 weeks1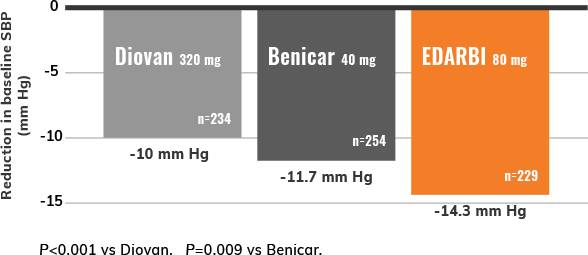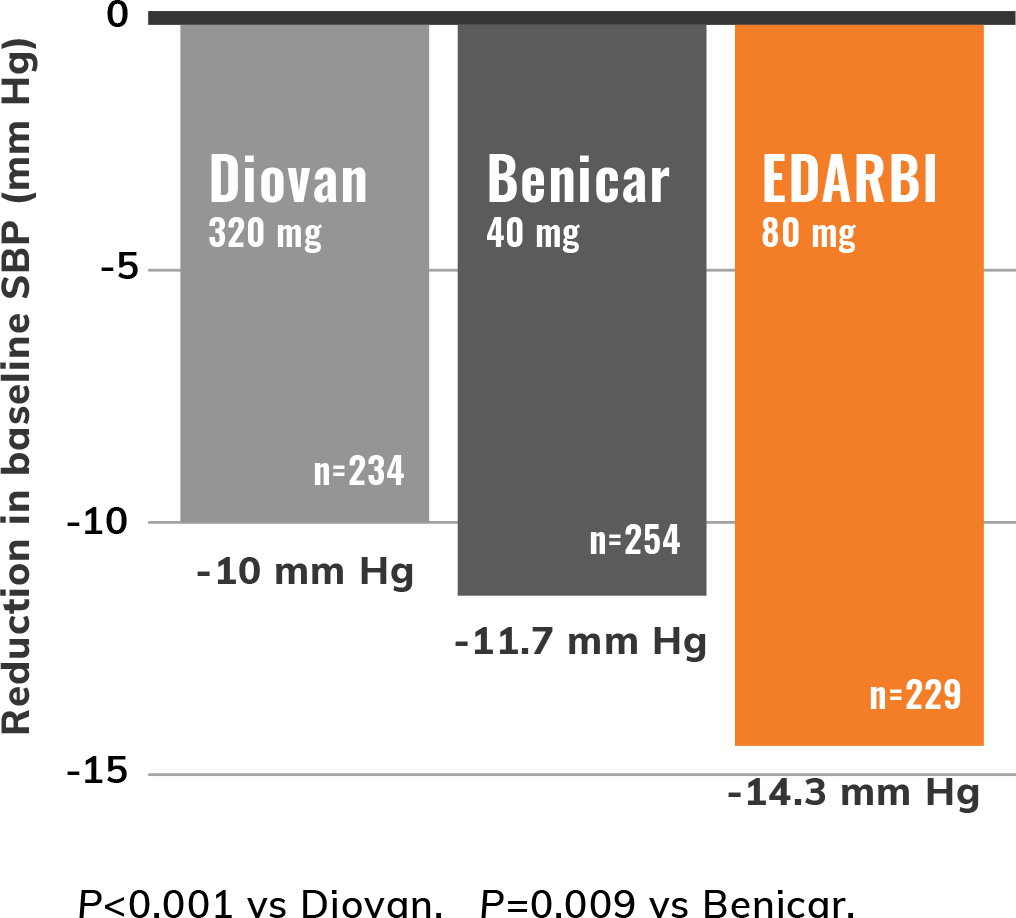 As measured by ambulatory blood pressure monitoring: In this study, EDARBI 80 mg lowered SBP by 14.3 mm
Hg vs 11.7 mm Hg with Benicar 40 mg (P=0.009) and 10.0 mm Hg with Diovan 320 mg (P<0.001).1
---
Mean ambulatory SBP reduction measured hourly at 6 weeks1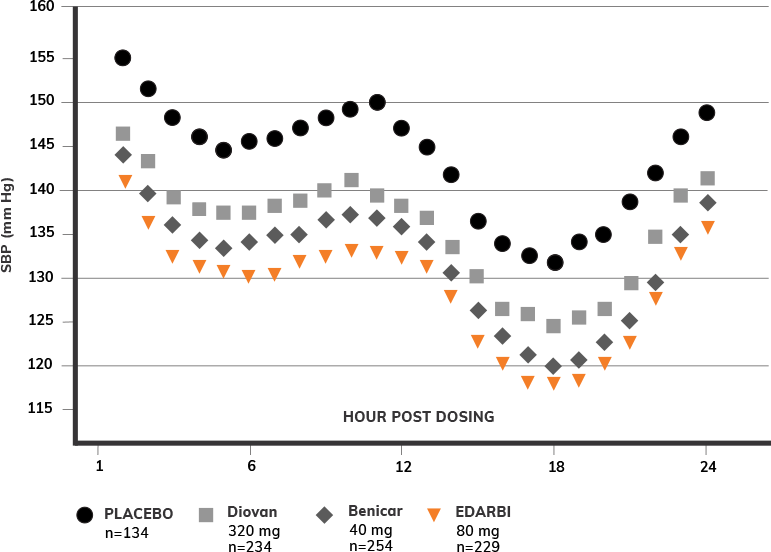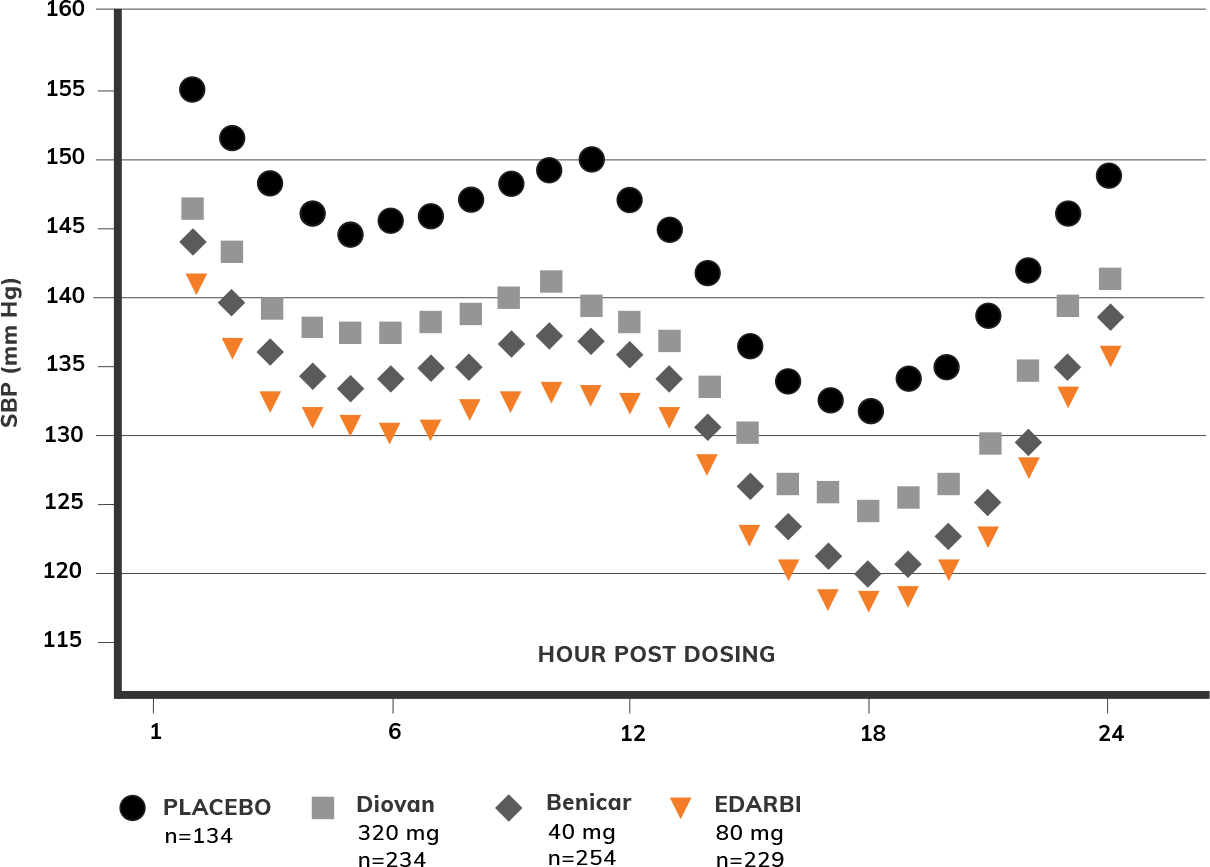 EDARBI 80 mg reduced ambulatory SBP at each hour to a larger extent than Diovan 320 mg and Benicar 40 mg
for most of the 24-hour period after 6 weeks of therapy.1
EDARBI SAFETY AND TOLERABILITY
Demonstrated safety profile2
Safety and tolerability were evaluated in more than 4800 patients.
Diarrhea was the most common adverse event (AE) and was reported in up to 2% of patients treated with EDARBI 80 mg daily vs 0.5% of patients on placebo.
Hypotension was the most common AE leading to discontinuation.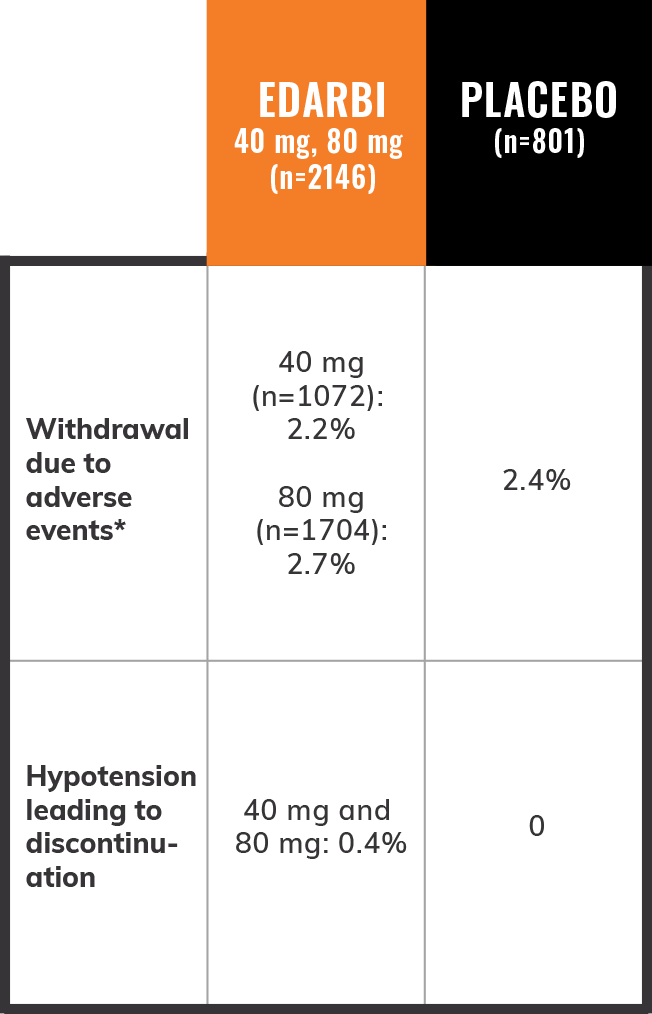 *Combined data from both placebo-controlled monotherapy and combination trials.
EDARBI Recommended Dosing
Simple daily oral administration
EDARBI is a once-daily oral medication taken
as initial or add-on therapy.2
May be administered with or without food.
No dose titration is required.
May be administered with other antihypertensive agents.
Correct volume or salt depletion in patients prior to use.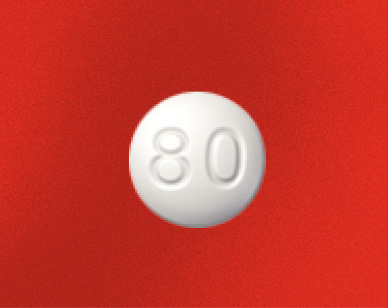 80 mg Once Daily
Recommended starting dose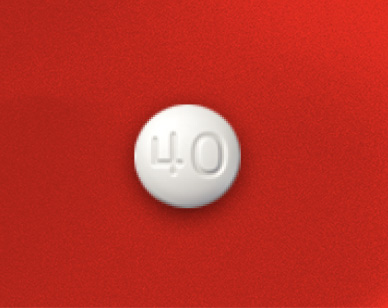 40 mg Once Daily
Recommended dose for use with high doses of diuretics
Pills are not shown at actual size.
EDARBYCLOR® (azilsartan medoxomil/
chlorthalidone)
When your patients need a powerful combo
EDARBYCLOR is the only ARB fixed-dose combination with chlorthalidone for hypertension that is not controlled with monotherapy. EDARBYCLOR has been proven effective in head-to-head clinical trials with Benicar HCT®.3
Learn about EDARBYCLOR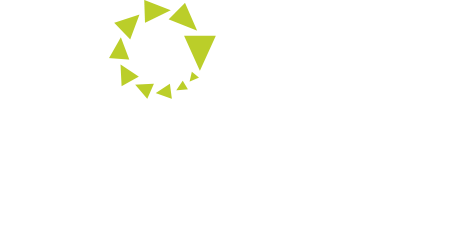 1. White WB, Weber MA, Sica D, et al. Effects of the angiotensin receptor blocker azilsartan medoxomil versus olmesartan and valsartan on ambulatory and clinic blood pressure in patients with stages 1 and 2 hypertension. Hypertension. 2011;57(3):413-420. doi:10.1161/HYPERTENSIONAHA.110.163402
2. Edarbi [package insert]. Atlanta, GA: Arbor Pharmaceuticals, LLC; [2020].
3. Edarbyclor [package insert]. Atlanta, GA: Arbor Pharmaceuticals, LLC; [2020].